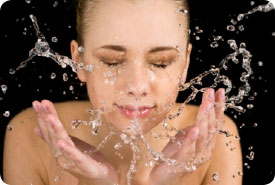 November is National Healthy Skin Month, which means it's the perfect time to evaluate your skin care routine and make sure you're taking good care of your body's largest organ. Prevent. Detect. Live.
Did you know?
By 2015, it is estimated that 1 in 50 Americans will develop melanoma, the most serious form of skin cancer in their lifetime.
Caucasians and men over 50 are at a higher risk of developing melanoma than the general population.   Although before age 40, melanoma incidence rates are higher in women than in men, after 40, rates are almost twice as high in men as in women.
Melanoma incidence rates have been increasing for at least 30 years.