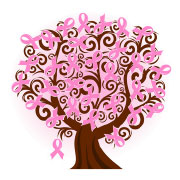 October is Breast Cancer Awareness Month, which is an annual campaign to increase awareness of the disease. Breast cancer is the most common cancer among women worldwide and the second-most common cancer overall. In 2015, an estimated 231,840 cases of invasive breast cancer will be diagnosed in the U.S. alone.
Did you know?
1 in 8 women will be diagnosed with breast cancer in her lifetime
When breast cancer is detected early (localized stage), the 5-year survival rate is 100%
Stamford's Paint the Town Pink
Paint the Town Pink stresses the importance of screening and early detection and spreads the word about the comprehensive breast care services available in the community.  The initiative, spearheaded by Stamford Hospital's Bennett Cancer Center staff, includes the development and maintenance of partnerships with area organizations, businesses and corporations, along with the coordination of a month-long calendar of events that take place in Stamford and beyond.
---