Building Better Communities…Together
Ashforth and its divisions strongly believe that investment and civic responsibility go hand in hand. We are committed to making an impact on our communities through corporate citizenship, civic involvement, and employee volunteerism. Ashforth focuses its philanthropic efforts on education and healthcare. Collectively, our financial contributions, our in-kind contributions and employee volunteer hours have helped to advance many worthy community organizations where we live and work. Our goal is to build stronger communities.
Ashforth Employees' Volunteer Support and Additional In-Kind Support
Volunteerism is vital to building better communities together. Ashforth has a priority to encourage and facilitate employee volunteerism. With a long and respected history of providing financial and in-kind service to numerous nonprofit organizations, we understand helping our nonprofits, whether with dollars or just a helping hand, makes our communities stronger, and that benefits everyone personally. Our employees generously give their time, expertise and dollars by volunteering in numerous ways including participating in Ashforth's employee volunteer program initiatives and community-benefiting events held at our buildings, as well as volunteering in their own home towns. In addition, our employees volunteer 7,000+ hours participating on nonprofit boards and committees. We are proud of our employees' commitment, dedication and time to support many local organizations in need.
Our employees help our local community in many ways:
Walking and fundraising for Stamford Hospital's Bennett Cancer Center Hope in Motion Walk & Run

Volunteering for the Earth Day Cleanup at Mill River Park

Participating in the Literacy Volunteers' Scrabble Challenge

Reading to the elementary kids in the Stamford Public Schools

Providing pajamas and books to Kids in Crisis

H

andling

 the Bob the Builder balloon for the Stamford Downtown Special Services District's annual Thanksgiving Parade Spectacular

Preparing disadvantaged Stamford elementary school children with new clothes and school supplies

and much more…
Community Support at Ashforth's Owned & Managed Properties
We encourage volunteerism to over 15,000 employees in 500 companies at our owned and managed buildings by organizing numerous community-oriented events at our buildings. These include a back-to-school drive, preparing disadvantage children for school with new clothes and school supplies, an environmental awareness and e-cycling drive to promote sustainability, conservation and awareness, and food, clothing and blood drives.
Key Community Partnerships
Stamford Hospital & Bennett Cancer Center
Read More
Ashforth is the founding and presenting sponsor of the Stamford Hospital's Bennett Cancer Center Hope in Motion Walk & Run event.
The event is the longest running and largest participatory charitable event in Connecticut and has raised $14 million over 22 years.
Since 1996, Ashforth's total contribution, including our annual corporate donation, in-kind marketing, and team donation, has exceeded $1.1 million.
Ashforth's Co-CEO has served as Chair of the hospital and foundation boards and an Ashforth employee has been on the event's executive committee the past 22 years.
Ashforth's team of 34 participants walked and raised $12,413 in 2017 and over the past 22 years raised $262,480.
Donated marketing services in 2017. Total value of these services over the past 22 years is $357,500.

Read More
Ashforth's partnership with Future 5, which includes financial and in-kind support, began in 2010.

Ashforth provides an in-kind program to help Future 5 students further their job training skills and goals which includes site visits, job shadowing, and internships.
In 2017, in addition to financial support, Ashforth provided in-kind marketing and graphic design services valued at $25,000.
Since 2009, Future 5 has served 500+ students and overall has a 98% high school graduation rate.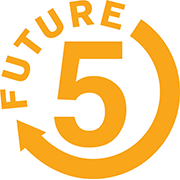 Read More
The Ashforth Company was the first honoree of the March of Dimes Fairfield County Real Estate Award event and has been a sponsor ever since.
The Real Estate Award event raised over $383,950 in 2017 and since 1996 has raised over $7 million.
Our in-kind marketing services over the past 22 years are valued at $157,500.
An Ashforth employee has been on the event committee for the past 22 years.

Boys & Girls Club of Stamford
Read More
Ashforth has been a supporter of the Boys & Girls Club for over 22 years.
An employee has been a member of the board the majority of these years.
Ashforth is a significant sponsor of the Club's City Chic event. The event raised $418,000 in 2016 and since 1991 has raised over $3.2 million.
In addition to financial support, in 2017 Ashforth provided marketing services for the event valued at $7,500.
Ashforth also annually supports the Boys & Girls Club's golf event, which raised $114,000 in 2016.